Taking Care of Family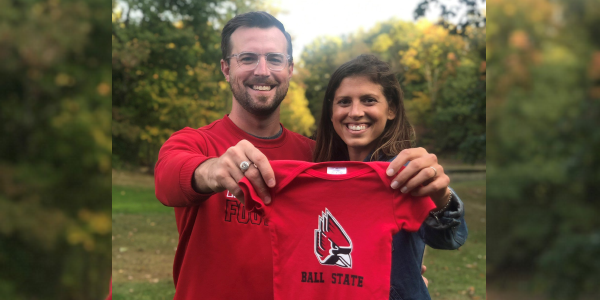 The lights came down, the curtain rose, and playing opposite each other on the musical stage were Jonathan, '10, and Jessica, '08, not yet sharing their last name. A self-described "showmance," their budding romance would coalesce during their time and tenure at Ball State University as students within the Department of Theatre and Dance.
The pair have stayed connected to their alma mater, and the faculty and staff that have become dear mentors and friends, throughout their lives. Inspired by their time at the school, their passion for their craft, and their desire to pay forward the opportunities presented to them by Ball State, Jonathan and Jessica chose to participate in the planned giving program offered by the Ball State University Foundation.
"We [chose to] give to the department that gave us so much," says Jessica.
"Taking care of family-and each other-was the most important reason for us to establish substantial insurance policies," says Jonathan. "As very active runners, cyclists, and general lovers of the great outdoors, having a safety net was vital to the well-being of our family, child, and loved ones."
Jonathan sees the planned gift to the University as a bonus consequence if he and his wife's insurance policies come into effect. The pair have chosen several groups as benefactors for their policy, including Theatre and Dance, alumni, and former University employees.
For more than five years, Jonathan and Jessica have been active and thriving members of Theatre and Dance's alumni society. Their involvement has kept their family intimately connected with the department since graduation through reunions on campus with classmates, staff, and professors who have subsequently spread throughout the nation to the theater-laden towns of New York, Chicago, and Los Angeles. Their planned gift allows them to strengthen that connection by designating funds to inspire other young alumni to think of Ball State while making long-term plans to support the University.
Regarding the ease of establishing and setting up their gift, Jonathan says, "Once we had our insurance plans all set, it was effortless to designate the Foundation and the Department of Theatre and Dance as beneficiaries of the plans. The team at the Foundation was super helpful at guiding us through the process with our broker." With the paperwork out of the way, the duo can rest soundly with the peace of mind that comes with knowing that they can make a difference in a student's life in the future.
The Department of Theatre and Dance provides their students the opportunity to learn from nationally recognized faculty, guest artists, and industry professionals, allowing them to extend their classroom knowledge and skills into the real world. They offer a full selection of new, original, and published performances each academic year. For more information on how to make a gift to the Department of Theatre and Dance, or any of your favorite Ball State programs, contact or visit us at ballstatelegacy.org .